Thinking about living in Renton, Washington? Here are 15 things you need to know before you make the big move!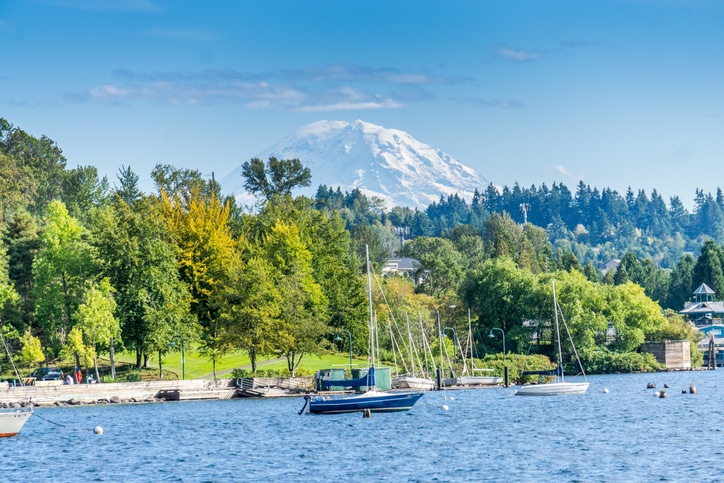 15 Top Things to Know Before Living in Renton
Renton is a lively suburb of Seattle on the southeast shore of Lake Washington. Learn fifteen of the top things you should know about living in Renton WA?
1. Public Transit is Good
If you live in the downtown area, you will have public transportation options available. Whether you need to get from Renton to Seattle or to SeaTac airport, you'll be able to use Renton's transit system to do so.
2. There Are a Lot of Green Spaces
If you are planning on living in Renton Washington with kids or pets you will find there are ample places for walking and picnicking. Visit Heritage Park, Riverview Park, or Cedar River Trail Park to get a feel for Renton's abundant green spaces.
3. Renton is Expensive
Though much more affordable than living in Seattle, living in Renton, Washington, is still on the pricey side. For example, due to its close proximity to Seattle, the cost of living in Renton, WA, specifically the housing, is well above the national average.
4. Renton Has a Good Education System
One of the reasons that Renton, Washington, is a good place to live is that it has a good education system. This means that Renton is an excellent place to live/relocate to with kids (or if you are planning to have kids in the future).
5. Renton Has a Good Community
Living in Renton means that you are guaranteed to find a community of like-minded individuals. Renton living ensures that you can rest easy knowing that your neighbors and community have your back and are looking out for you.
6. Renton Has Beaches
Living in Renton, Washington, ensures that you not only have access to green spaces aplenty, but you will also be able to enjoy beautiful beaches as well. Some of Renton's best beaches are Gene Coulon Memorial Beach Park, Kennydale Beach Park, and Newcastle Beach Park.
7. Renton is in Washington's 10 Largest Communities
Renton has a population of more than 100,000 people and is in the top ten largest Washington State communities. This means that no matter your hobbies or interests, you will be able to find a community of like-minded individuals living in Renton Washington.
8. Renton Has a Global Cuisine Scene
Renton has an expansive and delicious culinary scene. Whether your vegan, vegetarian, or fond of ethnic foods (Venezuelan, Vietnamese, or Italian), living in Renton will tickle your tastebuds. Visit Blossom Vegetarian for some authentic Vietnamese eats or Melrose Grill for a hearty steak meal.
9. Renton Has Leisure Activities Aplenty
Renton has a lot of outdoor activities to do during the summer months. You can visit an aquatic center for water sports or go jogging in one of the many parks. Living in Renton means that you'll never lack for weekend activities.
10. The Jimi Hendrix Memorial is in Renton
If you're a Jimi Hendrix fan then you'll be happy to hear that there is a dedicated memorial to him in Renton! The Jimi Hendrix Memorial quickly became a historic landmark in Renton and is a wonderful place to visit for fans.
11. Renton is Close to SeaTac International Airport
Yet another reason why living in Renton is so convenient, it's just a short drive (15-minutes to be exact) from an international airport. This makes traveling internationally as well as domestically a breeze.
12. Renton Has Good Shopping
Are you an avid shopper considering relocating and living in Renton? You'll be glad to know that Renton Washington has a vibrant shopping scene. Only a ten-minute drive from Southcenter (aka the Supermall), Renton is a prime location for people whose leisure hobbies include shopping the weekend away.
13. Renton is Accessible
As mentioned earlier, Renton is just a 15-minute drive from SeaTac Airport, 11 miles from Downtown Seattle, a 20-minute drive from Bellevue, and 30-minutes from Tacoma. This means that Renton is an ideal living location for people who work or attend school in any of the surrounding areas.
14. Renton is a Good Place to Raise Kids
Another reason why Renton Washington is a good place to live is that it is an ideal location for raising kids. Renton has good schools, ample parks, abundant activities, and is somewhat quieter than Seattle. This makes Renton an ideal living location for families or couples who are planning to have kids.
15. Renton is Diverse
Similar to the vibe that Seattle and Bellevue have, Renton is also a diverse area with a mixture of different cultures, cuisines, styles, art forms, and languages. This makes Renton an ideal living location for artists, students, or those passionate about having a home in a diverse location.
Are you Planning To Move to Renton?
If you need help in packing, loading, or transporting your things to your new home in Renton, On The Go Moving is here to help. Check out our various customized plans for the apartment moving in Renton. If you have questions about our services, prices, or availability, contact us today.